IN PUBLIC INTEREST
22.03.2019
___________________________________
PARENT'S AGONY
OUR CHILDREN ARE NOT HALAL MEAT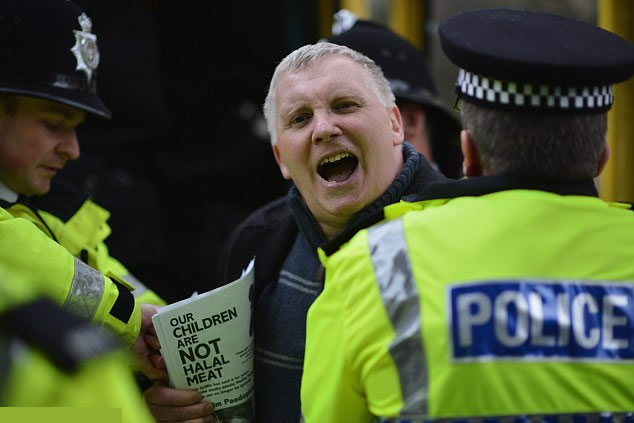 "a life for a life, an eye for an eye, a nose for a nose, an ear for an ear, a tooth for a tooth" Qur'an 5:45
ASGHAR GANDU

Asghar gandu ay am Jaco Zani-e-tiflan gandu
Afzal, Tariq, Asghar Moju o Mullah Rehman gandu
Muslim bhe Parveiz Shikari o hevan Irfan gandu
Saray Paki sath Ali Bangali bhe Shaitan gandu
Nam kay Muslim asli Soor o Bundar hain Qurani
Gandu kay kartoot gandu gandu ka bhgwan gandu

Javed Javed

MOST CHILD SEX GROOMERS & EXPLOITERS BELONGS TO MUSLIM
SUFI PEERI MUREEDI SECT. JJ
They believe Muhammad (S) did child sex so they have to do it.
One Pakistani Harami Mosque belongs to this Harami Sect in Cardiff & One in Newport.

UK Home Secretary Sajid Javid said that a high-proportion of men involved in gang-based child exploitation in the country are of Pakistani descent

https://tribune.com.pk/story/1875140/9-pedophiles-uk-pakistani-origin-says-uk-home-secretary/
https://www.bbc.co.uk/news/uk-46684638
UK's Home Secretary Sajid Javid
'WRONG TO IGNORE' ETHNICITY OF GROOMING GANGS - JAVID - BBC News
The Muslim Council of Britain does not represent Muslims in this country. Sajid Javid - BBC
Muslim Council of Wales also does not represent Muslims in Wales. Javed Javed
JJ REQUEST A PUBLIC ENQUIRY IN THE NAME OF BRITISH JUSTICE IN PUBLIC INTEREST FROM THE HOME SECRETARY SAJID JAVID IN THE WELSH PAKISTANI PAEDOPHILE ISSUE
---
DAY LIGHT FRAUDS
JAVED JAVED IS A VICTIM OF PREMEDITATED FRAUDS
---
WHAT IS FRAUD?
FRAUD ACT 2006, THE
https://www.cps.gov.uk/legal-guidance/fraud-act-2006
The Offences
Section 1 creates a general offence of fraud and introduces three ways of committing
it set out in Sections 2, 3 and 4.
Fraud by false representation (Section 2);
Fraud by failure to disclose information when there is a legal duty to do so (Section 3); and
Fraud by abuse of position (Section 4).

In each case:
the defendant's conduct must be dishonest;
his/her intention must be to make a gain; or cause a loss or the risk of a loss to another.
No gain or loss needs actually to have been made.
The maximum sentence is 10 years' imprisonment.

Fraud by false representation (Section 2)

The defendant:
made a false representation dishonestly
knowing that the representation was or might be untrue or misleading
with intent to make a gain for himself or another, to cause loss to another or to expose another to risk of loss.
The offence is entirely focused on the conduct of the defendant.
Fraud by failing to disclose information (Section 3)
The defendant:
failed to disclose information to another person
when he was under a legal duty to disclose that information
dishonestly intending, by that failure, to make a gain or cause a loss.
Like Section 2 (and Section 4) this offence is entirely offender focussed. It is complete as soon as the Defendant fails to disclose information provided he was under a legal duty to do so, and that it was done with the necessary dishonest intent. It differs from the deception offences in that it is immaterial whether or not any one is deceived or any property actually gained or lost.
Fraud by abuse of position (Section 4)

The defendant:
occupies a position in which he was expected to safeguard, or not to act against, the financial interests of another person
abused that position
dishonestly
intending by that abuse to make a gain/cause a loss
The abuse may consist of an omission rather than an act.
Like the other two Section 1 offences, Section 4 is entirely offender focused. It is complete once the Defendant carries out the act that is the abuse of his position. It is immaterial whether or not he is successful in his enterprise and whether or not any gain or loss is actually made.
As with all the Section 1 offences, though there need be no consequences to the offending, the existence and extent of those consequences will be very material to sentence, compensation and confiscation. It will still therefore be necessary to gather that evidence. In many instances it is the fact of the gain or loss that will prove the Defendant's dishonesty beyond reasonable doubt.
---
Please Note: In my endeavor to bring to justice the evil paedophiles, i interacted with some of the finest and brave officers of South Wales Police Force and rightly Police should be proud of them.
THEY THOUGHT THEY GOT AWAY WITH IT
TO SAVE ACCUSED PAEDOPHILES FROM JUSTICE
FRAUD BY
SOUTH WALES POLICE
AS PER OFFICERS REPORT, AFTER SIGNING THE FRAUD DOCUMENT AGAINST JAVED JAVED WHO REPORTED THE CRIME AND IN FAVOUR OF ACCUSED PAEDOPHILES, SOUTH WALES POLICE TDCI R. CRONICK WENT ON LEAVE BEFORE RETIRING AND WILL NOT BE RETURNING TO SOUTH WALES POLICE.
SINCE SOUTH WALES POLICE HAVE NOT REJECTED TDCI CRONICK'S DOCUMENT OF 10TH AUGUST 2017 AS FRAUD, THEY ARE ALSO PART OF FRAUD.
I HAVE REASON TO BELIEVE THAT BESIDES OTHERS, CARDIFF CROWN COURT WAS ALSO DELIBERATELY DECEIVED TO GET THE DESIRED RESULT ON 15 MARCH 2018 WITH THIS SOUTH WALES POLICE TDCI R. CRONICK STATEMENT WHICH REFELCTS FROM NEWSPAPERS REPORTING.
After the conviction of one of accused by Javed Javed paedophile Haji Mohammed Sadiq I believe South Wales Police got alarmed, agitated, worried and panicked with my investigation into the Cardiff Councill and Welsh Assembly regarding their precautionery measures & safeguards against the one of each of their accused member, police were investigating, and to see serious investigation opening up & responsibility fixed on the horizon as it appears to me for not informing Cardiff Councill & Welsh Assembly about investigation taking place, and to stop this happening they issued False or Fraud certificate of 10th August 2017 to pre-empt the investigation and gave room to the Cardiff Councill and Welsh Assembly to say that it was in the past and bury the issue.
https://www.walesonline.co.uk/news/wales-news/mosque-teacher-jailed-sexually-assaulting-13296636
LINK: Letter to Theresa May Home Secretary whcih triggered the paedophile investigation

LINK: Letters of complaint dated 18th December 2015, 27th December 2015 and 18th January 2016
LINK: Background and Main Beneficiaries of TDCI Cronick's Fraud Document


I COMPLAINED AND OFFICERS REPORT
PRODUCED & SENT TO ME ON 5/10/18
THIS IS WHAT OFFICERS REPORT SAYS
EXTRACTS FROM OFFICERS REPORT

"NUMBER OF PERSONS WERE INTERVIEWED UNDER THESE CIRCUMSTANCES AND SOME REFUSED." THOSE WHO REFUSED; WERN'T THEY ASSEMBLY MEMBER & COUNCILLOR?
---
WHEN ALL MY EFFORTS FOR JUSTICE CAME TO DEAD END,
I LODGED,
THE FRAUD COMPLAINT
AGAINST TDCI CRONICK
OF SOUTH WALES POLICE
SOUTH WALES POLICE PROFESSIONAL STATNDARDS SEPARTMENT
DEALING WITH THIS FRAUD COMPLAINT
--------------------------------------------------------------------------
HISTORIC LETTER TO THERESA MAY NOW PRIME MINISTER
WHICH TRIGGERED THE CHILD SEX ABUSE INVESTIGATION
------------------------------------------------------------
TRIED TO GET SUPPORT FROM FIRST MINISTER CARWYN JONES AM
FOR JUSTICE BUT HE REFUSED TO DEAL WITH THIS MATTER
javed javed
Tue 29/01/2019 12:28
Jones, Carwyn (Aelod Cynulliad | Assembly Member)
Dear Sir,
When this letter was addressed and sent to Mr Jones on 9th December 2018, he was The First Minister. Same day this letter was CCs to NAfW Standards Commissioner Sir Roderick Evans QC, Chief Constable SWP Matt Jukes, Cardiff Council Leader Huw Thomas, P&C Commissioner for South Wales Alun Michael as mentioned in a letter. I received no reply at that time hence the reason I sent it again but the situation has been changed since then and he is no longer The First Minister, but this letter relates to the events when he was the First Minister and I believe he has a duty to answer the questions raised in the letter in public interest regardless of if he is or not a First Minister now.
Your sincerely
Javed Javed
--------------------------------
Jones, Carwyn (Aelod Cynulliad | Assembly Member) <Carwyn.Jones@assembly.wales>
Tue 29/01/2019 13:51
You
Dear Sir,
I'm very sorry but as previously explained, Mr Jones cannot deal with this matter since he is no longer First Minister. If you write to his replacement Mr Mark Drakeford at PS.FirstMinister@gov.wales then a response can be provided. Any further correspondence to this address will be deleted.
Yours sincerely,
The Office of the Rt Hon Carwyn Jones AM
-----------------------------------------------------------------------------
HISTORIC LETTER TO FIRST MINISTER CARWYN JONES
NOTE: For a reason any missing information; consult Theresa May letter to fullfil the gaps
Out of Two, one labour councillor in Theresa May letter Mohammed Javed died on 24 July 2016
Javed Javed

www.javedjaved.com
javedijaved@hotmail.com
Mobile: 07970 552833
9th December 2018
Dear First Minister Carwyn Jones
Where is the Justice for Ignored & Not-traced child sex abused victims?

As one of Welsh Pakistani heritage Muslim who does not belongs to any political party, any Muslim's Sect and follows only Islam of Qur'an of Muhammed (S) and known as a Quranic Islamic Poet of The East & West, I have reason to believe by communicating with Standards Commissioner Sir Roderick Evans QC last year that from the start of, as per South Wales Police Officers Report of 5th October 2018 , historical child sex abuse enquiry & investigation by South Wales Police by which one culprit was sent in prison for 13 years in July 2017; criminal case triggered by Theresa May MP the UKs Home Secretary at the time and now Prime Minister, pedophilia activities investigation also included one of Welsh Assembly member -------- ----- AM from April 2016 till the issuing of 'False Certificate of Innocence' by South Wales Police TDCI Cronick on 10 August 2017, copy provided, for whatever inducement; no precautionary or safeguard measures were in place to safeguard & protect venerable innocent children from one of the accused pedophile -------- ------ AM (con) by National Assembly for Wales. One does not have to be a lawyer to know about corruption & coverup.
Sir, my question is, why didn't National Assembly for Wales protected children from an accused child sex abuser whilst under investigation by South Wales Police in which Home Secretary was involved? Doesn't the Welsh children have right to be protected from accused pedophiles in public representation? Was the National Assembly for Wales sleeping or covering up for fellow AM by not tackling the issue or raising even concern or the National Assembly for Wales was not informed of the child sex abuse investigation by South Wales Police and why not? Did National Assembly for Wales through First Minister or individual AMs played any role actively or passively or by keeping eyes closed or ignoring it to let TDCI Cronick of South Wales Police issue a 'False Certificate of Innocence'.
Dear First Minister, one would surely get very suspicious 'in the climate & fog of political correctness' by knowing that two accused Muslim councilors for pedophilia activities belongs to Labour Party, Ali Ahmed is alive, but Mohammed Javed, very close to Alun Michael in friendship & activities just as Ali Ahmed for many years since Broadway Mosque, died in mysterious circumstances in the course of police investigation and he was also Chair of the Cardiff Police Advisory Committee and you Sir. Leader of the National Assembly for Wales also belongs to Labour Party and also South Wales Police & Crime Commissioner Alun Mishael, Cardiff Council is controlled by Labour Party, MP Jo Stevens of Cardiff Central where Madina Mosque Cardiff is situated belongs to Labour Party including AM Jenny Rathbone who was very actively involved in internal War of Madina Mosque Cardiff triggered by Political Parties for control & votes is from same constituency and all accused's but two belongs to Madina Mosque Cardiff. Did this all Sir influenced or not Independent & impartial, just like Banana Republic's police, SW Police to use TDCI Cronick to issue 'False Certificate of Innocence'.

I believe for the sake of innocent Welsh children & justice and also in public interest there should be now an independent public enquiry by Justices about this very serious issue of covering up pedophile investigation in any shape or form collectively or undividedly in Cardiff or Wales to pin points the culprits in this issue of covering up and punished so it should not happen again and Sir, in the absence of this request or demand I believe I have a right & duty to take this issue through the corridors of British Justice System in public interest without any further notice, if my health does not restrict me.
Sir, on the principle of responsibility, you are First Minister of National Assembly for Wales and responsible for all its activities actions & non-actions just like Prime Minister or Council Chief, I would like to bring into your kind attention the following very serious extract from news for the gravity of the situation which may interest you, published in the newspaper in Feb 2016 after my report '----------------------------' to the Chief Constable of South Wales Police and Home Secretary.
Council chiefs who ignore child abuse will be jailed
Maximum five-year terms for police, teachers, elected councillors and social workers who turn a blind eye to grooming gangs, Prime Minister announces
Council chiefs, social workers and teachers who fail to act upon suspicions of child abuse face five years in prison to help "eradicate the culture of denial", David Cameron will announce
The Prime Minister will warn those who turn a blind eye to child sexual abuse out of a "warped sense of political correctness" that they face criminal prosecution in the wake of the Rotherham grooming scandal .
Police forces will be ordered to treat the threat child sexual abuse as a "national threat" equivalent to terrorism and organised crime.
https://www.telegraph.co.uk/news/uknews/law-and-order/11445791/Council-chiefs-who-ignore-child-abuse-will-be-jailed.html
Sir, you were informed of this very serious pedophilia complaint on January 2016 and I don't know if you paid any attention to this pedophile complaint or just ignored it and distanced yourself from it and paid no interest and attention and left deliberately entirely to South Wales Police and when nobody overlooking or watching the South Wales Police, alone or by collaborating with other entities with whatever inducement issued 'False Certificate of Innocence' through one of their agent TDCI Cronick, individually & collectively to let the accused off the hook of justice system and go free as they did with currently convicted Haji Mohammed Sadiq a Qur'an teacher, Imam, Mullah and Treasurer of now disgraced & anti-Islamic and under Islamic Law a 'destroyable' (Qur'an 9:107) -------------------- in 2006 whilst ignoring & covering-up for many years the Muslim child's sex abuse issue was ---------- chairman Asghar Ali Liberal Democrat Cardiff Councilor & Vice Chair of the Cardiff Police Advisory Committee (and one of accused pedophile Mohammed Javed deceased as Chair of the Cardiff Police Advisory Committee), who also belongs to a Muslim's Peer's Penis Worshiping Evil Sect just like accused's pedophiles a Sect in Muslims very well known for sexual activities with children due to their certain Sect's belief about Prophet Mohammed (S) but all Muslims wrongly gets the blame due to illitracy and finally this evil satanic pedophile in ------------ Cardiff was nailed down in 2017 for 13 years in jail with my efforts recognized by South Wales Police Officers Report of 5/10/18.
Sir, Just as all Christians do not belongs to BNP same way all Muslims do not belongs to this Child Raping Sect but only those visible & known by Peeri Mureedi & Sunni Firqa-e- Aashiq-e-Rasool (S) Extremist, Violent & Terrorist Sect in SUNNI Muslims including those I accused for child sex abuse who do not shy away from killing even Muslims for their Evil & Satanic beliefs and surely by exposing them as a clear Satanic Sect just like BNP will definitely relieve the guilty feeling pressure on all other Simple & Peaceful law-abiding Muslims. This Madina Mosque's child sex abuser's sect's followers murdered a Muslim fellow Punjab Governor Salmaan Taseer in Pakistan and now wants to murder Christian woman Asia Bibi for their Satanic Pride & Goal.

This child raping, violent extremist & terrorist sect does not like to be isolated from other plain simple & peaceful Muslims to carry on their heinous activities but hides within their fold in UK.
According to this Sect's belief Mohammad (S) had sex with under ten years old girl so they also have Islamic right to CHILD SEX wherever they reside to follow Mohammed (S) by Hook or Crook to get Muslim's Promised JANNAT or paradise after death for following Mohammed (S) or raping child. When this Satanic Sect's member rape a child, any religion's child Muslim or non-Muslim, in Mosque, Madrassa or outside he has been infused a belief in his mind by their sect's Mullah's that when he is raping a Child, he is getting a promised paradise or Jannat. Sir, you know now what kind of Muslim's Pedophile Sect you are dealing with in Wales and UK.
Sir, this extremely valuable & useful information from a Pakistani heritage Muslim about the mind set of Pakistani Muslim's Grooming Gangs and how do they justify their evil acts, and which Mosques' followers belongs to this Evil Sect in Cardiff, Wales & UK, please pass on to Pakistani Heritage Muslim Home Secretary Sajid Javid as he is looking for this information to end child sex abuse from British Soil, instead of passing it to him by myself in public interest.
Dear First Minister, with due respect let me say it plainly that as per my information I believe you and National Assembly for Wales (NAfW) by not taking a keen & positive interest and turning blind eye in this very serious pedophilic activities case in Wales in which accused were Pakistani Heritage Muslims, was not regarded & treated as equated to "National Threat, Terrorism, & Organized Crime" in which the Home Secretary was involved and she took an action and you sir and National Assembly for Wales by ignoring and looking away from it, became one of the instrument of encouragement and became a hidden partner with South Wales Police TDCI Cronick to issue a 'False Certificate of Innocence' of 10 August 2017 with impunity under a "warped sense of political correctness". Is this a Welsh mentality?
Sir, an extract from my letter to the Home Secretary Theresa May MP on 30 th December 2015,

Sir, although I am suffering from the irreversible effects of BG hemorrhagic stroke since April 2016, but I must carry-on in the pursuit of justice in public interest, if my health allows me to do it, with all BG stroke, heart & end stage renal failure related difficulties & restrictions on body & mind.
Thomas Jefferson, "When injustice becomes law, resistance becomes duty."
Sir, with due respect; in the absence of a remedy or positive remedial action taken by you or the National Assembly for Wales, I would like to request for public funding to pursue justice through the justice system for ignored & Not-traced child sex abused victims in public interest as you know National Assembly for Wales loves to support Extremists, Sectarian Terrorists, Ani-Semitics, Islamists or anybody with Muslim tag.

http://hurryupharry.org/2011/06/13/saleem-kidwai-the-muslim-council-of-wales-and-policy-folly/

Sir, Cardiff Council & Chief is also in same boat as you are because of accused Councillor --- ----- --and Council & Chief ignoring or covering-up sex abused children case.

I WISH YOU A MERRY CHRISTMAS & HAPPY NEW YEAR
Yours sincerely



Javed Javed

CC: NAfW Standards Commissioner Sir Roderick Evans QC, Chief Constable SWP Matt Jukes,
Cardiff Council Leader Huw Thomas, P&C Commissioner for South Wales Alun Michael
Rt Hon CARWYN JONES AM REPORTED
Ex-First Minister of Wales, Rt Hon Carwyn Jones AM has been complained & reported to the Standards Commissioner for National Assembly for Wales Sir Roderick Evans QC on 21/2/19, for refusing to deal with above copied legitimate, legal & lawful voters letter and including "Dear Sir, First Minister Carwyn Jones AM acted against Carl Sargeant AM swiftly "by the book" and what did he do against a Pakistani heritage Muslim Mohammed Asghar AM when he was acutely under investigation and Carl Sargeant wasn't? Wasn't it a discriminatory & raciest or was there something else hidden?".
---
FRAUD:
IN THE NAME OF CROWN COURT
TO GET MY WEBSITE WWW.JAVEDJAVED.COM BY HOOK OR CROOK
FRAUD & DECEPTION BY
SOUTH WALES POLICE
PC BENJAMIN GWYER 5369
Made me sign this document under duress on 15/03/18, with active help, assistance & support of prosecution Barrister PETER DONNISON and defence Barrister NEAL TREHARNE
UNDER INVESTIGATION BY SW POLICE PSD
OCC NO 1800298985 REPORTED DATE 07/08/2018
IN THE CROWN COURT THEY MADE ME BELIEVE THAT THIS DOCUMENT IS FROM THE CROWN COURT AND I WILL HAVE TO SIGN IT, WHICH I DID AS PER MY BARISTER'S ORDER & OVERLOOKED BY PC BEN GWYER AND PROSICUTION BARRISTER PETER DONNISON AND AFTERWARDS I FOUND OUT IT WAS NOT FROM THE CROWN COURT BUT FRAUD AND DECEPTION BY BEN GWYER 5369 AND REPORTED IT TO THE POLICE AND THIS FRAUD IS UNDER INVESTIGATION BY THE PROFESSIONAL STANDARDS DEPARTMENT OF SOUTH WALES POLICE.
THEY DID NOT WANTS TO GIVE ME THE COPY OF THIS DOC BUT RELUCTENTLY DID WITH MY PERSISTENT INSISTENCE.

FRAUD IN THE NAME OF CROWN COURT
REPORTED AND ALSO UNDER INVESTIGATION BY SOUTH WALES POLICE PSD
SOUTH WALES POLICE FRAUD, DECEPTION, HARASSMENT & BLACKMAIL LETTERS
DELIVERED BY HAND
SW POLICE WANTS MY WWW.JAVEDJAVED.COM WEBSITE BY HOOK OR CROOK
---
WITH DUE REPECT TO HH JUDGE BIDDER QC
CIVIL CASE NO C70CF008 FOR INJUNCTION ORDER
ONE REPORTED PAEDOPHILE JAILED
THE OBLITERATED JUDGMENT OF HH
JUDGE BIDDER AGAINST JAVED JAVED
FACTUAL FRAUD POINTED OUT IN JUDGMENT OF HHJ BIDDER QC
IT WAS HHJ BIDDER'S BASE JUDGMENT WHICH WAS FAITHFULLY FOLLOWED BY OTHERS AGAINST JAVED JAVED WITHOUT SCRUTINY
HH Judge Bidder's judgment of Case No C70CF008 in 29.02.2016 against Javed Javed was obliterated when Haji Mohammed Sadiq, one of accused in three complaint documents, was convicted and sentenced in Cardiff Crown Court on 15 June 2017 for 13 years for paedophilia activities reported to South Wales Police by Javed Javed in complaint documents of 18 December 2015, 27 December 2015 and 18 January 2016 and again when appealed in Appeal Court, convictions were pronouncd safe by The Lord Chief Justice of England and Wales Sir Ian Burnett but HH Judge Bidder still has not muster enough courage to apologise to Javed Javed for his unjust judgement, making Javed Javed appears that his reports or complaints were false, and failed to re-convene his court to undo his proven ill-judged judgment. When appealed against the judgment in-time, justice system lost Javed Javed's appeal file and appeal against the judgment is still pending.
OFFICERS REPORT OBLITERATED HH JUDGE BIDDERS JUDGMENT


https://www.walesonline.co.uk/news/wales-news/mosque-teacher-jailed-sexually-assaulting-13296636
Why South Wales Police Benjamin Gwyer 5369 made statement against Javed Javed in civil court and HHJ Bidder allowed it without giving a copy to Javed Javed who appeared in person?
EXTRACT FROM TRANSCRIPT OF C70CF008
EXTRACT FROM JUDGMENT OF C70CF008
---------------------------------------------------------------------------------------------------------------------
HHJ Bidder changed or fabricated the submitted statement or complaint of Javed Javed against one of the defendent as per his wish and desire and then he used this his own fabricated statement against Javed Javed to pass judgment against him which i believe also influenced the others against Javed Javed.
FACTUAL FRAUD OR FALSE REPRESENTATION
BY HH JUDGE BIDDER QC IN HIS JUDGMENT
THIS CRIME HAS BEEN REPORTED TO THE POLICE ON 13/03/2019
INCIDENT NUMBER 1900090476
BY ALTERING OR FALSIFYING JAVED JAVED'S STATEMNT OF FACT OR COMPLAINT HHJ BIDDER MADE SURE THAT JAVED JAVED TO APPEAR AS MAKING FALSE COMPLAINT OR HIS STATEMENT OF TRUTH IS FALSE
FRAUD BY FALSE REPRESENTATION BY HHJ BIDDER QC
EXTRACT FROM HHJ BIDDER'S JUDGEMENT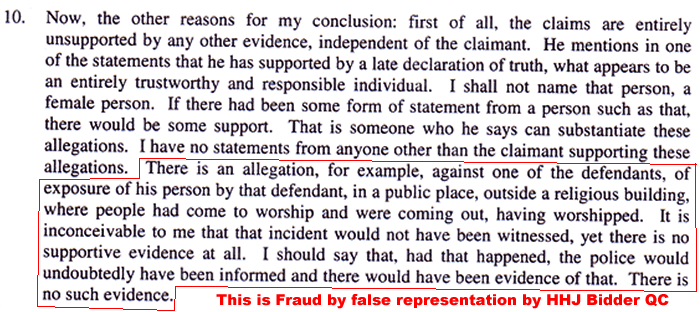 EXTRACT FROM MY MY TESTIMONEY OF
WHAT MOHAMMED JAVED TOLD ME AND WHAT I WITNESSED
WHERE IS EXPOSURE OF HIS PERSON IN MY COMPLAINT?


LINK: THE OBLITERATED JUDGEMENT OF HH JUDGE BIDDER QC

NOTE THE LANGUAGE AGAINST THE ACCUSER JAVED JAVED AND IN FAVOUR OF PAEDOPHILES ACCUSED.
JUDGE CAN EXPRESS HIS OPINION FREELY BUT HE CAN NOT & SHOULD NOT CHANGE THE FACTS OF THE CASE.
---